1. Earn Points
Spend $1 And Earn
1 Point
Like On Facebook
25 Points
Follow Instagram
25 Points
150 Points

$5 OFF

300 Points

$10 OFF

450 Points

$15 OFF

600 Points

$20 OFF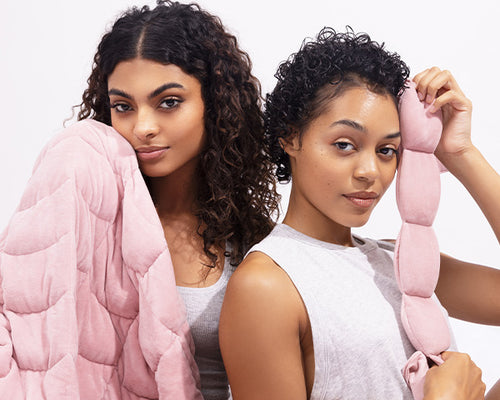 REFER A FRIEND
Give $10, get $10
When you give a friend $10 off a Nodpod product, you will also get $10 to spend in the shop to allow you to get some #damngoodsleep
Nodpod Club FAQ's
What is Nodpod Club?

Nodpod Club is our loyalty program. We love the Nodpod community and the Nodpod Club is our way of showing our appreciation for your loyalty. Once in the Club, you'll be able to earn points that can be redeemed for cash coupons off your order!
How do I earn points?

It's super easy to start earning points! You can earn points by signing up for our loyalty program, spending money in our store, following us on Instagram, or liking a post on Facebook!
How do I redeem my points?

Earn points and receive a coupon to spend on a future purchase:

150 points = $5 coupon
300 points = $10 coupon
450 points = $15 coupon
600 points = $20 coupon
How do friend referrals work?

Give $10 and get $10! When you refer a friend to join Nodpod Club, you'll both get a $10 coupon to spend on your purchase of $50 or more. You get a $10 coupon when your friend joins Nodpod Club and completes their first purchase of $50 or more. Your friend also gets a $10 coupon once they sign up to spend on a purchase of $50 or more. You can send as many referrals as you like!
Benefits of joining Nodpod Club?

Redeem cash coupons to use on your future purchase! You and any friends you refer will also get $10 coupons for use on purchases!
Do my points expire?

Points never expire so you can redeem them anytime you like!
The amount discounted using gift cards, credit codes or discount codes are not eligible to earn points. Taxes and shipping charges are not eligible toward earning points. Points per review applies to a maximum of three (3) reviews per customer every 30 days. Reviews are only eligible if accessed via the Judge.me review email sent to you after each product purchase. Reviews left directly on our site and on products that have not been purchased on nodpod.com are not eligible.

Please note that points are only earned for the first follow on Instagram and first like on Facebook. To have the follow or like applied to your account, please go to the Nodpod Club Loyalty Program tab at the bottom left hand corner of the screen and access your social accounts through the Earn Points tab. Social follows or likes do not apply if completed directly through your social media account.

Coupon code values limited to defined denominations. Limit of one coupon code redemption per purchase. Coupons codes cannot be combined with other discount codes and have an expiration date of one year since redeemed. Reward coupons can only be used with a minimum purchase of $40. A $10 refer-a-friend coupon can only be used with a minimum purchase of $50.

Points are non-transferable, have no cash value (unless required by law) and cannot be exchanged, sold or returned. Nodpod is not responsible for lost or stolen Points.

Nodpod is not responsible for any taxes incurred by customers. Terms and conditions are subject to change, alteration, substitution, or termination by Nodpod in its sole discretion at any time.